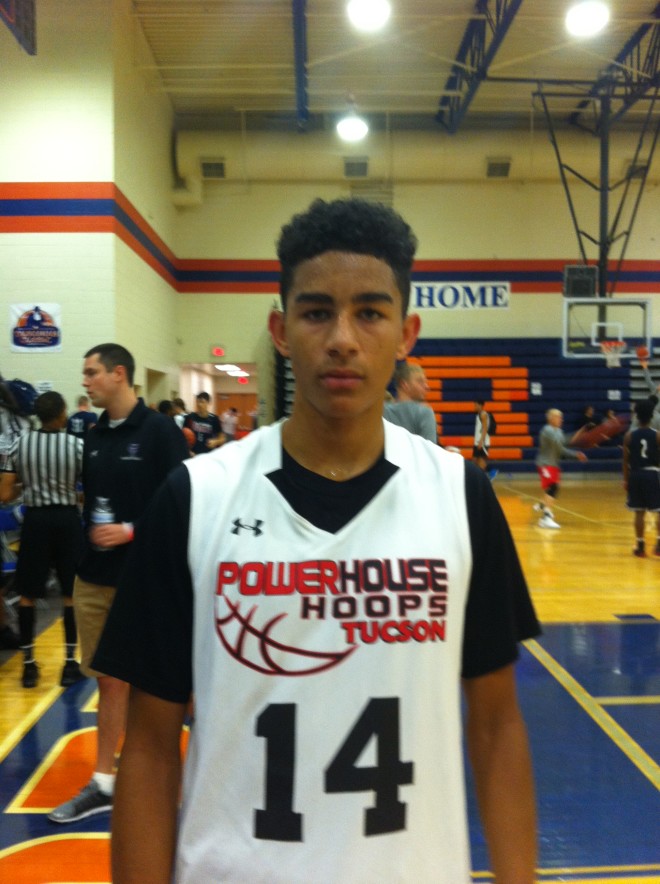 Pictured is 6'3" CG Addison Mort from The Gregory School.
I attended Ryan Silver's WCE Spring Classic and Unsigned Senior/Juco showcase. It was on April 28th-30th at Bishop Gorman HS in NV.
Some of the players will suit up the last time in the live period and needed to make that one last positive impression.
Here were some of the players I viewed who played well from Arizona.
2015
6-6 PF Kwintin Williams of Pma CC (Unsigned/senior showcase)
-Williams is an NBA athlete. He pulled off a 360 windmill dunk in game. It was probably the best dunk I've ever seen in my life. He is high level rebounder and can block shots in his area. His skill level is coming around but his play above the rim as a rim runner and rebounder make him valuable.
2016
6-8 C James Sosinski of South Mountain CC (Unsigned/senior showcase)
-Sosinski started slowly but then kicked it into high gear. He can shoot it to the HS 3pt line but will need to be more consistent. He can clean the glass with his girth despite not getting off the ground too high. (Avg 12.6 rebounds per game). He can go over his left shoulder and score on baby hooks plus he has a quick spin move into the lane with his back to the basket. He needs to lose around 20 lbs but he will only get better.
6-3 SG Ferron Flavors of South Mountain CC (Unsigned/senior showcase)
-Flavors was the best shooter at the event. He has deep range and can get hot in a hurry. He is more of a specialist at the next level. (He averaged 18 ppg and 41% from the 3pt line.) He can get up the court in a hurry and has a good build/length and can make plays for others at times. Flavors picked up an offer from Fairfield University this week which he then committed the next week.
6-5 SF Bryan Battle of South Mountain CC (Unsigned/senior showcase)
-Battle is a long and athletic defensive player. He has high motor and competes on every possession. He can hit the 3pt shot but he will need to improve. (33% from the 3pt line) He is a natural driver and if he has some space, he will throw it down. He is a team player and is a good rebounder for position. (7.8 RPG)
2017
6-1 PG Marcus Shaver of Shadow Mountain HS (Unsigned/senior showcase)
-Shaver was the top prospect at the event. He has a next level pull-up off of a crossover that is almost unguardable. He can hit the deep 3pt shot at a good clip. His skill level was undeniable and showed off his athleticism too. He has the ability to go to gear 1 to 5 in a blink of an eye. He showed he can score in traffic with his left or right hand versus other athletic players. He also is a better playmaker as advertised since he didn't have the ball in his hands for the first time in his life for the majority of the games at Shadow playing besides Blacksher and House. His defense potential in college is high using his length/quickness and speed. He's arguably the top PG left on the board in the West Coast and he picked up offers recently from Portland State, Fordham, Boise State and UC Davis.
6-5 W Caleb Simmons of Desert Vista HS (Unsigned/senior showcase)
-Simmons is a hard worker and plays with a high motor. He is a strong bodied driver who is a tough kid. He is constantly on the glass and hustling. His shooting form has improved over the last year and his 3pt shot has improved because of it. He defends well on the perimeter and his ability to play hard makes him valuable.
6-1 CG/SG Isaac Etter of Aspire Prep (OGP HQ 17U Elite Black)
-Etter is a consistent shooter from the perimeter. (He had some big games this weekend.) He has good length and can score in the lane with either hand. He can handle the ball and set up teammates but his main goal is to put the ball in the basket. He plays under the rim but he will be good at the lower levels.
6-0 PG Andrew Leonard of Cienega HS (Unsigned/senior showcase)
-Leonard is a shooter/facilitator. He showed he can control the game and set up his teammates. The lefty can shoot it from the 3pt line plus pull-up and score. He isn't the strongest player but uses his mind and skill to succeed.
2018
6-5 SG Jared Martin of Saguaro HS (PHH 17U Black)
-Martin played well in 3 of the 4 games. He is a consistent shooter with good bounce. He is starting to not settle for the deep ball and driving to the basket to score or to set up his teammates. He is a good defender, not elite, but plays hard. Martin's stock is up and he picked up offers from NAU and LMU.
6-8 PF Nikc Jackson of Sunnyside HS (PHH 17U Black)
-Jackson is highly skilled scorer in the post. The lefty can step out to MR and score it. He has advanced counter moves and can rebound well in his area. He showed a little more fight but still needs to improve his toughness in the trenches.
6-3 PG Sam Beskind of Catalina Foothills HS (PHH 17U Black)
-Beskind stock is on the rise. He can throw down some ferocious dunks on the break plus takes over games at the end. He drives to the hole to score or makes his teammates better plus he is the toughest player on his club team. His motor and determination are second to none. A no-nonsense type of approach and wins games. He is a great leader and rising player. Beskind picked up an offer from Montana State.
6-11 C Steele Bennett of Desert Vista HS (AZ Factory 17U)
-Like most bigs, Bennett has been a work in progress over the years. He is slowly showing signs of growth. He will never be that big time leaper and true dominant back to the basket type but he brings a lot of other important skills. He showed this weekend that when his motor is revved up, he can be a menace on both sides of the floor. He blocked shots at a good rate plus got on the glass. He scored on putbacks plus faced up from elbow and in and scored. (This is his best offensive weapon.) He was looking more active/showed more bounce and just made plays when needed. Overall he is a D1 center that will go to a program who appreciates what he does well and not what he can't do. Bennett picked up an offer from Montana State and has many schools looking at him.
6-3 PG/SF Jaylin Fleming of Arcadia HS (PHH 17U Red)
-Fleming is a strong and physical defender. He is an all downhill attacker and almost never even attempts shots beyond 15-feet. He rebounds at high level for his position and plays with passion. He made some critical plays down the stretch of a couple games and is always active. If he can extend his range, he will be more coveted.
6-3 SG/SF Amarion Cash of Mountain Pointe HS (PHH 17U Red)
-Cash is a long and wiry wing player. He can pull-up from MR plus hit the 3pt shot but he isn't consistent at this point. He uses his length to play the passing lanes but needs to thicken up and continue to add to his game. He shows some play making ability skills too.
5-11 PG Tashon Brown of Paradise Valley HS (AZ Power North 17U Platinum)
-Brown continues to shine in the live period. He has a good burst with a tight handle and has the ability to score from all 3 levels. He can pull-up from MR plus hit the occasional 3 and drive by his defender. His speed and quickness allows him to defend on the ball but he is smaller versus the bigger guards and they can bully him into the lane defensively.
6-6 PF Isaac Williams of Cesar Chavez HS (AZ Power North 17U Platinum)
-Williams is thick post player who plays physical inside. He isn't a true back to the basket type of player but he can face-up and shoot it from 10-feet and in consistently. He can guard taller post players with his strength/girth and rebounds well. He plays really hard and play with a high motor.
6-3 CG Addison Mort of The Gregory School (PHH 17U Tucson)
-Mort is a long playmaker with a high IQ and he has a consistent stroke. He is an outstanding defender with impressive instincts. He uses his speed/length to block shots/collect steals and rebound the ball. He also has the ability to make his teammates better. He is new to the club scene and he impressed.
2019
6-5 PG D'Maurian Williams of Westview HS (AZ Factory 17U)
-Williams is a physical lead guard who is one of the better drivers on the West Coast. He uses his size/strength and tight handle to get into the teeth of the defense and create havoc. He can pull-up off the dribble and he can hit from deep. This is where he needs to keep making strides. If his shot comes around, he'll be one of the most coveted guards.
6-3 CG Jackson Ruai of Amphi HS (PHH 16U Black)
-Ruai is a long and lean defensive dynamo. He plays the passing lanes better than most players on the West Coast. He uses his unusually long arms, fast feet and quickness to stay with his man on the ball. That is his best skill currently. He can handle the ball and set up his teammates and he uses the floater well. He is a decent 3pt shooter off the catch and he can hit an occasional pull-up. He needs to improve his ability to score off the bounce plus continue to tighten up his handle. The baby-faced defender has a high upside.
6-6 SG/W Emmanuel Taban of Apollo HS (AZ Factory 17U)
-Taban is another long player with high upside. He is one of the more consistent wing shooters in AZ. He has hit roughly 1-3 3pt shots in every live or out of town game I've viewed of him. He uses his length on the defensive end and is starting to drive to the basket a little better. His one dribble pull-up is a great weapon for college and if he keeps adding to his game, he'll be a problem.
6-8 PF/C Shaun Wahlstrom of Verrado HS (AZ Classics 16U)
-Wahlstrom keeps improving leaps and bounds. He has a strong frame/build with good length. His athletic ability and skill level has seemed to come in virtually overnight. He can hit from elbow and in and he has a few post moves as well. He caught a couple lob dunks and carves out space to rebound the ball and boxes out well. If he can push out a couple more inches, he will take another giant leap.
6-5 F Jaret Allen of Deer Valley HS (AZ Classics 16U)
-Allen is a long and skinny quickly developing forward. He can shoot it comfortably from deep plus uses his long wingspan to deflect/steal passes. He is still trying to improve his ball handling in tight quarters but Allen is definitely on the rise. Looks like his 13 years old and he has a twin brother who plays too. Allen is a nice upside player for Deer Valley.
6-9 187 C John Olmsted of Morenci HS (PHH 16U Black)
-Olmsted is a brand new player on the club scene. He is reportedly a very good 1st baseman in baseball and is slowly taking his game over to the hardwood. He moves fluidly for his size and has a nice touch on his shot from 15-feet and in. He is very weak currently but he can rebound decently in his area plus dunk the ball easily. It will be interesting to track this young player. Morenci HS is nearly in New Mexico and is 3 hours away from Tucson and about 4 hours away from Phoenix. His only opportunity to truly be seen will most likely be in the club season.
5-10 PG Zion Sandoval of Palo Verde HS (PHH 16U Black)
-Sandoval played on need this weekend with Majok Deng and Grant Ward unable to play. He stepped in and played well. He is an athletic physical defender on the ball and guards his man all the way down the court. He can drive the lane with his physicality but he is a very inconsistent shooter currently. If he can make strides as a shooter, his game will improve dramatically.
2020
6-1 PG Evan Nelson of Marana MTV HS (PHH 16U Black)
-Nelson is a top-5 PG in the class on the West Coast I've viewed so far. He controls games with his tight handle and has a knack for getting into the lane and making his teammates better. He can hit the pull-up plus shoot it off the catch from both levels. He is a very good defender and he is becoming a little more athletic.